Are you ready to transform your skincare routine?
Discover the secrets to achieving radiant, healthy-looking skin with a daily beauty skincare routine.
In just a few simple steps, you can cleanse away impurities hair care, exfoliate for a fresh face, and nourish your skin with serums and essences.
Don't forget the essential hydration and moisturization steps, as well as the crucial sun protection to shield your skin from harmful UV rays.
Get ready to unlock your skin's true potential and embrace a liberated beauty routine.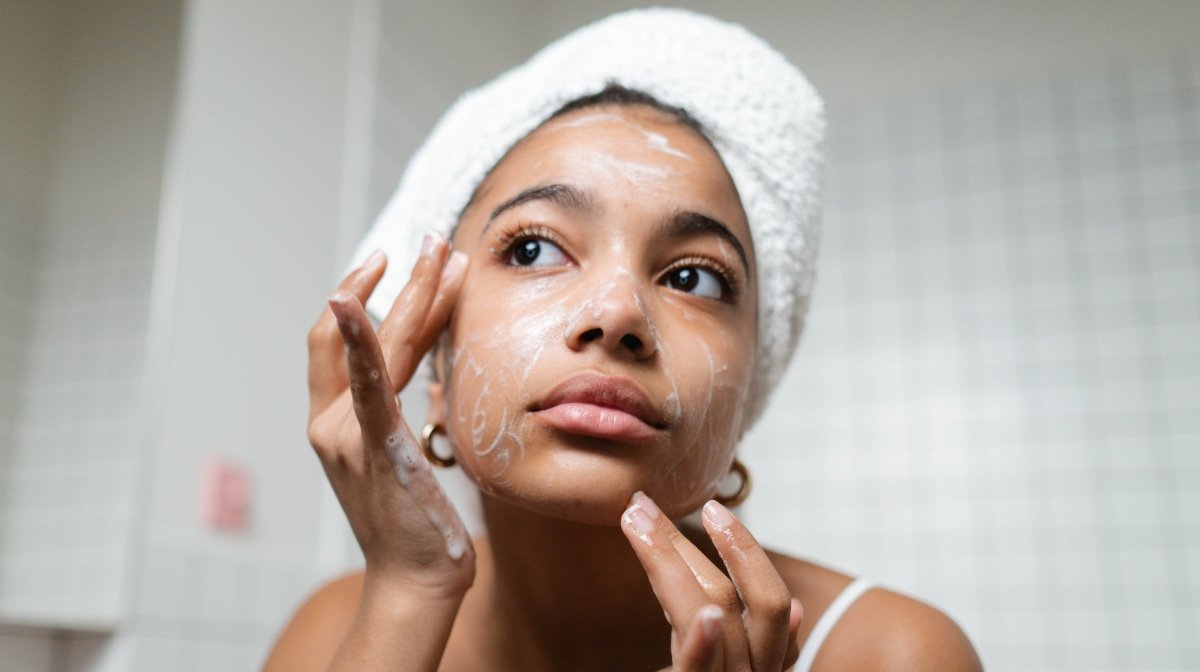 The Importance of Cleansing
You should prioritize cleansing your skin every day to remove dirt and impurities. Cleansing is an essential step in any skincare routine, as it helps to maintain the health and clarity of your skin.
One of the benefits of double cleansing is that it ensures a thorough removal of all the dirt, oil, and makeup that may have accumulated on your skin throughout the day. By using an oil-based cleanser first, followed by a water-based cleanser, you can effectively remove both water-soluble and oil-soluble impurities.
It's important to choose the right cleanser for your skin type to avoid any potential irritation or dryness. For oily or acne-prone skin, a gel or foaming cleanser is recommended, while those with dry or sensitive skin should opt for a cream or lotion cleanser.
Exfoliation Techniques for a Fresh Face
To achieve a fresh face, exfoliate regularly using gentle techniques. Exfoliation is an essential step in your skincare routine that helps remove dead skin cells, unclog pores, and improve the overall texture of your skin.
Gentle exfoliation is key to avoid irritation and damage to your skin. There are various exfoliation tools available that can aid in achieving a smoother complexion. One popular option is a soft-bristle brush or a konjac sponge, which gently buffs away dead skin cells without causing any harm.
Another effective tool is a chemical exfoliant, such as AHAs or BHAs, which work by dissolving the bonds between dead skin cells. Remember to choose products that are suitable for your skin type and to exfoliate no more than twice a week to maintain a healthy balance.
Nourishing Your Skin With Serums and Essences
For a nourishing boost, consider incorporating serums and essences into your skincare routine. These products are packed with potent ingredients that can hydrate and brighten your skin, giving you a radiant and youthful complexion.
Hydrating serums are formulated with ingredients like hyaluronic acid, which can attract and retain moisture in the skin, keeping it plump and supple. They also often contain vitamins and antioxidants that provide additional nourishment and protection against environmental stressors.
On the other hand, brightening essences typically contain ingredients like vitamin C, niacinamide, or kojic acid, which can help fade dark spots and uneven skin tone, giving you a more luminous and even complexion.
Essential Steps for Hydrating and Moisturizing
To achieve a hydrated and moisturized complexion, it's important to incorporate essential steps into your skincare routine.
One key step is to use hydrating masks, which work wonders in boosting moisture levels. These masks are packed with ingredients like hyaluronic acid, glycerin, and ceramides that penetrate deep into the skin, replenishing it with much-needed hydration. Applying a hydrating mask once or twice a week can make a noticeable difference in the overall moisture levels of your skin.
Another crucial step is to prioritize your nighttime skincare routine. While you sleep, your skin goes into repair mode, making it the perfect time to restore hydration. Opt for a nourishing night cream or a sleeping mask that's specifically formulated to provide intense hydration. These products are designed to lock in moisture and deliver nourishing ingredients throughout the night, leaving you with a plump and dewy complexion in the morning.
Sun Protection: Shielding Your Skin From Harmful UV Rays
Protect your skin from harmful UV rays by wearing sunscreen with a high SPF and seeking shade during peak sun hours.
Sunscreen application is an essential step in your daily beauty skincare routine. When choosing the right SPF, it's important to consider your skin type and the intensity of sun exposure. SPF, or Sun Protection Factor, measures the level of protection against UVB rays, which are responsible for sunburn. For everyday use, a sunscreen with an SPF of 30 or higher is recommended.
Apply sunscreen generously to all exposed areas of your body, including your face, neck, arms, and legs. Don't forget commonly overlooked areas like your ears, lips, and the back of your hands.
Reapply every two hours or after swimming or sweating to ensure continuous protection.
Conclusion
In conclusion, maintaining a daily beauty skincare routine is essential for keeping your skin healthy and glowing.
By properly cleansing, exfoliating, and nourishing your skin with serums and essences, you can achieve a fresh and youthful complexion.
Don't forget to hydrate and moisturize your skin to maintain its elasticity and suppleness.
Lastly, always remember to protect your skin from harmful UV rays with adequate sun protection.
With consistent care, you can achieve beautiful and radiant skin.